Would you pay $550 for a Mac Mini clone running Linux?
I certainly would not.
When I hear of a Linux desktop, a Pavlovian trigger in my brain brings up pictures of tons of free software and cheap hardware costing no more than $99-$129.
Paying anything more for a Linux consumer desktop, even if it comes in a cute little box, is utter folly in my not so humble opinion.
To me, Linux is the last bastion against the soul crushing creed of barbaric capitalism championed by the likes of Microsoft, Apple and Uber.
And to associate Linux with overpriced hardware breaks my heart. 🙁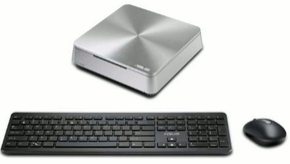 Black Lab BriQ Mini rev4
Pricey Affair
So when news came my way of the Black Lab BriQ rev4 Linux Mini desktop computer for $550 ($650 with 3-year warranty), I fell off my chair.
What in the world is wrong with these people, I asked myself not sotto voce but loud enough to rattle neighbors in my townhome row.
PC-opensystems, the North Carolina company behind the cute BriQ rev 4 and the Black Lab Linux distribution running on the box, is pitching the "Mac mini" type PC as a "very affordable system" for use in offices, dorm rooms, living rooms or as a gaming PC.
If $550 is considered affordable for a Linux desktop (mind you now, it's without a monitor), I guess my dictionary of value and comprehension must be a lot outdated. Because it makes just no sense to me.
Now if you're curious about the Linux mini's specs, it's powered by a Intel Celeron 1.5Ghz processor (not the fastest of chips) and comes with 16GB RAM, 500GB hard disk, wireless keyboard and mouse, 6 USB slots (2 USB 3.0 and 4 USB 2.0) and integrated WiFi 802.11 N and Bluetooth.
The system runs on the Black Lab Linux distro, which offers a choice of KDE or GNOME desktops
For comparison purposes, HP's Windows 8.1 Pavilion Mini desktop (Model 300-020: Intel Pentium 3558U dual core, 4GB RAM, 500GB hard drive, wireless keyboard and mouse, integrated WiFi and Bluetooth) is $320. The higher end HP Pavilion Mini Model 300-030 (dual core Intel i3 processor, 4GB RAM, 1TB hard drive, wireless keyboard and mouse, integrated WiFi and Bluetooth) sells for $450.
When the real Mac Mini is going for $499 (albeit, with lesser specs than the Black Lab BriQ rev 4) and Windows Minis for $450 or less, for the life of me I can't see people paying $550 for an imitator running Linux.
Although I desperately want Linux to conquer the consumer desktop, I doubt the Black Lab BriQ Linux Mini rev4 will create any ripples given its $550 price tag.