For every iPhone that Apple sold in the second quarter of 2013, nearly six Android smartphones were sold in the same period.
According to market researcher Strategy Analytics, global shipments of Android smartphones in the second quarter of 2013 hit 182.6 million units.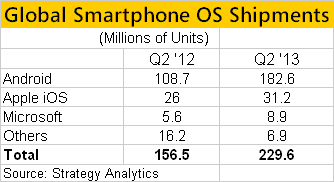 Android accounted for nearly 80% of the smartphone market, up 10% from the second quarter of last year.
While shipments of Android smartphones were going gangbusters, Apple's iPhones were seeing a much modest growth.
Shipments of Apple's iPhones in the second quarter touched 31.2 million units, a modest increase of 5.2 million units over the second quarter of 2012.
Apple's share of the smartphone market in the second quarter was 13.6%, down by 3% over the corresponding period last year.
If the second quarter smartphone numbers tell us anything, it's that the battle will be between Android and Apple's competing iOS mobile platform.
The other players will be merely also-rans!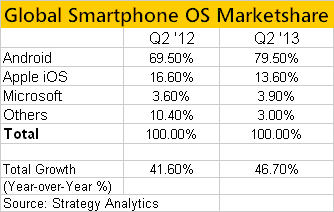 Why Do Android Phones Sell?
There are two main reasons behind the humongous shipments of Android smartphones:
1. Android smartphones are generally cheaper compared to iPhones.
2. Dozens of vendors assemble Android phones. They range from big names like Samsung, LG, Lenovo and HTC that sell their products around the world to no-name Chinese vendors that peddle their devices primarily in emerging markets like India, Brazil and Russia. Chinese firms like Huawei offer smartphones for as little as $100.
Apple's iOS mobile software platform is exclusive to iPhones.
Who Makes Money?
Despite the surge in Android shipments, Apple is not likely to be too concerned.
After all, Apple makes the bulk of the profits in the smartphone business.
The company's margins on its iPhones are reported to be around 50%.
Profit margins for the Android smartphone vendors are said in the low single digits.
Over the years, Apple has developed a large following of fans who swear by its products, fans who wait in lines for several hours to buy the company's latest smartphones.
Such a fierce fan following is unknown in the Android world.
Apple has also attracted developer interest in a way rival platforms (Android, Microsoft and Blackberry) has not.
Microsoft Irrelevant
Microsoft does not count for much in the smartphone business.
Smartphones based on Windows sold a mere 8.9 million units in the second quarter, relegating it to third place in the smartphone universe.
Microsoft's share of the smartphone market was a mere 3.9% in the second quarter.
Given its huge coffers, Microsoft will not disappear anytime soon from the smartphone business.
But it will continue to limp along in the absence of significant consumer and developer interest in its devices.
Global Market
Smartphone shipments grew 47% annually from 156.5 million units in Q2 2012 to 229.6 million in Q2 of 2013.
Strategy Analytics attributed growth to strong demand for Android phones across all price-tiers in developed and developing markets like US, China and Brazil.