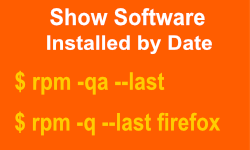 It's easy to get a list of all the software installed or upgraded on a Linux system.
If you're running CentOS, RedHat or Fedora, just run the below command on the terminal to get the complete list of all software installed on your PC or server.
$ rpm -qa
If you're running Debian, Ubuntu or Linux Mint, go with either of the below commands.
$ dpkg --get-selections
The following command will work fine too.
$ dpkg -l
Software Installed by Date
RPM Based Linux Systems
However, there are occasions when we'd like to know about the software on our Linux system by date of installation. Continue reading »