Although my go-to Linux distros are CentOS and Linux Mint, I occasionally give Fedora a spin.
So when Fedora 29 debuted on October 30, 2018, I decided to take the upgrade out for a spin.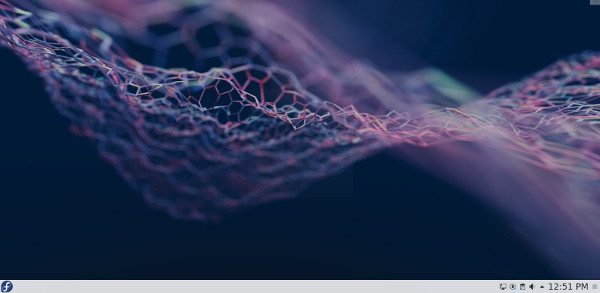 Fedora 29 KDE Plasma
Fedora is always about choice and, besides the default GNOME 3.3 desktop version, comes in various desktop "spins" like KDE Plasma, XFCE, LXQT, Mate-Compiz, Cinnamon, LXDE and SOAS.
Since I'm not a great fan of GNOME, I opted for the KDE Plasma spin with which I'd had a better experience in the past compared to GNOME.
I downloaded the KDE Plasma iso on my Linux Mint PC, did a shasum verification check of the iso download, wrote the OS to an USB drive and then installed it on an old Dell 780 SFF PC (just for the heck of it, I also installed it as a guest OS via VirtualBox on a different PC but it was a trifle slow).
First Impressions
There were no hiccups with the installation of Fedora 29 KDE Plasma spin although I did it on an anemic PC.
Three days after Fedora 29's launch on October 30, there were 218 updates waiting for me during my install on November 2.
So many updates just three days after launch? I found this puzzling. What gives??
You can update the system through the command line or via the update button in the bottom right corner of the screen (see image below).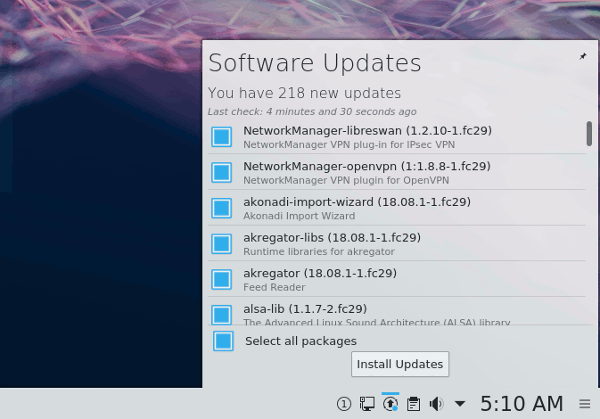 Fedora 29 Software Updates
At install, the kernel in Fedora 29 KDE Plasma was 4.18.16.
[pasha@localhost ~]$ uname -r
4.18.16-300.fc29.x86_64
Simple tasks that are aggravating on GNOME are easy on Fedora 29 KDE Plasma. For instance, I did not encounter the screen resolution issue a lot of people face while installing a GNOME desktop as a guest OS on VirtualBox or the irritating hot-left corner issue. Also, adding shortcuts to the bottom panel or desktop is simple (right-click the application and select from among the various options).
Most tasks like launching an application, adding new software or shutting down or rebooting the system can be accomplished by clicking Fedora's prominent F icon at the bottom left of the screen and then selecting from the options.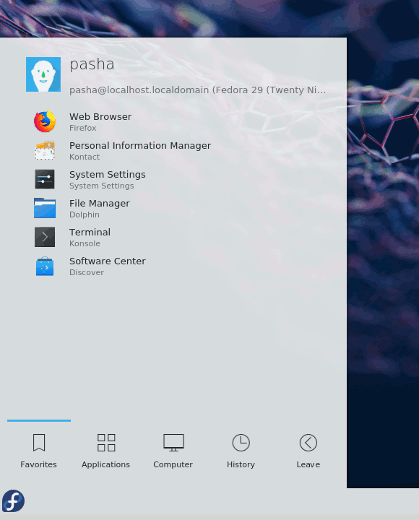 Fedora 29 Application Launch Options
Installing new applications is a breeze via the GUI-based Software Center. There are tons of applications in several categories. But do take some time and research the application before installing it.
The integrated Kontact personal information manager is bound to be very useful.
Another highlight of the upgrade is a so-called Modularity feature. For average users, it may not be that big a deal but for developers and businesses that live by application compatibility and system stability it might be a useful tool.
Here's how Fedora developers describe the new Modularity feature, which is available on all variations of Fedora 29:
Modularity lets us ship different versions of packages on the same Fedora base. This means you no longer need to make your whole OS upgrade decisions based on individual package versions. For example, you can choose Node.js version 8 or version 10, on either Fedora 28 or Fedora 29. Or you can choose between a version of Kubernetes which matches OpenShift Origin, and a module stream which follows the upstream.
Baffling Issues
Choice is good. But too much of it is confusing.
What is the point of including three browsers (Firefox, Falkon and Konqueror) in Fedora 29 KDE Plasma?
Also, I was disappointed not to find the excellent LibreOffice suite.
Fedora 29 KDE Plasma comes with Calligra Words, which is no patch on LibreOffice Writer.
Some system settings are not as intuitive as they should be. I could not easily find a way to disable the system suspension feature after stepping away for just a few minutes (look under System Settings–>Workspace–>Desktop Behavior–>Screen Locking).
Responsive
Fedora 29 KDE Plasma was responsive even on a decade-old Dell Optiplex 780 SFF machine with 4GB of RAM and a regular spinning hard-drive (not the new SDDs).
In a time when Windows 10 has proven to be a privacy bugaboo and updates nightmare, and Mac prices are shooting through the roof with little innovation to show, Fedora 29 KDE Plasma is a blessing its shortcomings notwithstanding.
Take Fedora 29 KDE Plasma out for a spin. You might even make it your default, go-to desktop OS.
For the moment, I'll stick to Linux Mint Cinnamon and CentOS 7 GNOME (not a happy camper though) as my Linux desktop OS.