Fall on your knees and kiss the earth in gratitude.
Folks, Kali Linux 2.0 has just been released.
In case you've just arrived from Mars or Uranus, Kali is the mother of Linux penetrating distributions.
So what's new in Kali 2.0?
A lot of goodies in there, a lot! So continue reading!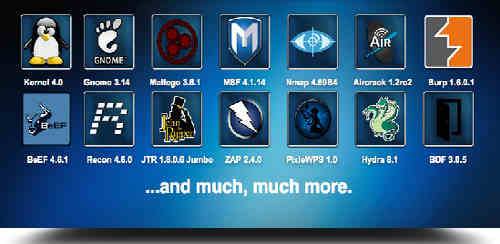 New Features in Kali Linux 2.0
Here are a few highlights of Kali 2.0:
* Kali is now a rolling distribution (i.e. software is frequently updated without requiring you to install a complete OS)
* New 4.0 kernel based on Debian Jessie
* Improved hardware and wireless driver coverage
* Native support for KDE, GNOME3, Xfce, MATE, e17, lxde and i3wm Desktop Environments
* New VMware and VirtualBox Kali 2.0 images
* More frequent core tool updates
By the way, the regular Gnome3 desktop requires a minimum 768MB of RAM.
So if you're running older hardware with limited resources, go for the new minimal Kali 2.0 ISO "light" flavor.
The minimal version comes with a limited set of tools along with the lightweight Xfce desktop environment.
Metasploit Community/Pro Dropped
Now for some bad news.
Metasploit Community/Pro packages have been dropped in Kali 2.0.
Metasploit is an extremely useful tool in the arsenal of penetration testers for identifying security vulnerabilities.
The folks at Kali say that they removed the Metasploit Community / Pro package at the request of Metasploit Rapid7.
Kali Linux 2.0 will only ship with the open-source metasploit-framework package.
Penetration testers who want the Metasploit Community or Pro packages will now need to download it directly from Rapid7.
How to get Kali 2
First decide if you want top upgrade or get a complete new version.
Instruction For Upgraders:
If you wish upgrade from Kali 1.x to Kali 2.0, you must edit your source.list entries, and then run dist-upgrade (see below).
$ cat << EOF > /etc/apt/sources.list
deb http://http.kali.org/kali sana main non-free contrib
deb http://security.kali.org/kali-security/ sana/updates main contrib non-free
EOF
Now it's time to do an update and then upgrade the distro.
$ apt-get update
$ apt-get dist-upgrade
$ reboot
The 2.0 upgrade may fail if you have been using incorrect or extraneous Kali repositories or installed or overwritten Kali packages outside of apt. In such situations, the better alternative is to reinstall Kali 2.0 from scratch.
Instruction for Downloaders:
If you're a first-time Kali user or don't prefer to upgrade but want a fresh install, no sweat.
Decide which version of Kali 2.0 you need (32-bit or 64-bit).
Head over to the Kali web site.
Pick the ISO or Torrent of the flavor you want.
Download to your local drive and then burn to an USB drive /DVD or install on your system in a partition or via VirtualBox or VMWare virtualization software.
As is to be expected, the Kali site is currently under heavy load thanks to thousands of users trying to download the 2.0 upgrade. So be patient.
Finally, here's the Kali Linux 2.0 Download location.
Always, Hack Responsibly and Ethically!