In a world of mostly disappointing retail coffee shops, I've always found Starbucks to be a reliable haven, consistently maintaining good standards.
Plus, the coffee chain's restrooms are a big relief on cold days. 😉
But I have one more reason to visit Starbucks now – their free WiFi is gonna get 10-times faster thanks to the coffee chain's partnership with Google.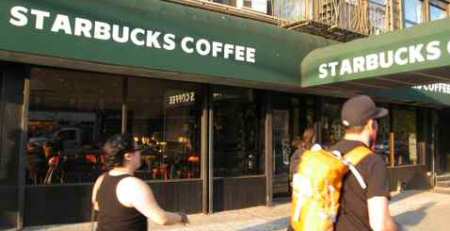 A Starbucks Store in NYC
Starbucks stores will start offering the faster WiFi this month and complete the upgrade in its  7,000 U.S. stores in 18 months.
WiFi is a big draw at Starbucks.
Visit any Starbucks in New York City and you'll see at least six or seven persons working at their MacBooks, Dell laptops or other electronic devices.
AT&T, the previous provider of free WiFi services at Starbucks, has been given the heave-ho.
Besides the fast WiFi service, Starbucks and Google intend to jointly work on the "next-generation Starbucks Digital Network."
Details of the partnership between the two companies were not disclosed.
Telecom vendor Level 3 Communications will provide the technology for faster WiFi at Starbucks stores and manage it.