If you believe God erred by slotting a mere 24-hours into a day, then the free Pocket (previously known as Read It Later) app is for you.
With so many interesting articles to read at any single moment and multiple tasks screaming for your attention, you definitely can't read all the things online when you want to.
With long articles, the problem gets worse. So you tend to put it off, bookmark it or just let it go.
And if you're like me, you already have a gazillion bookmarks in a quadrillion folders.
So what's a harried gal like you to do?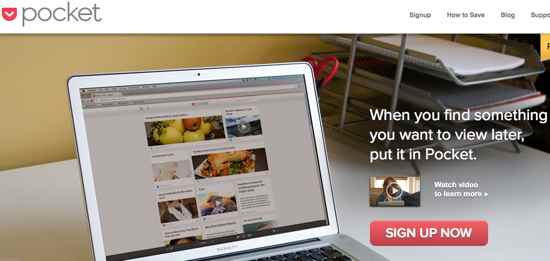 Pocket It
Get Pocket pronto.
Pocket makes it convenient for the harried 21st century worker bee to stay on top of the must-read stuff.
At the click of a mouse on your browser, Pocket lets you save an article for later reading and easy retrieval.
By the way, in addition to web pages the app supports videos and images as well.
Besides the browser, Pocket is said to work with popular news aggregation apps like Zite, Pulse and Flipboard and via e-mail as well.
Getting an extension for the browser is the best way to use Pocket on the desktop.
Pocket has extensions for Firefox, Safari and Chrome.
I tested Pocket running on Firefox browser on both Mac and Windows Vista and there were no issues.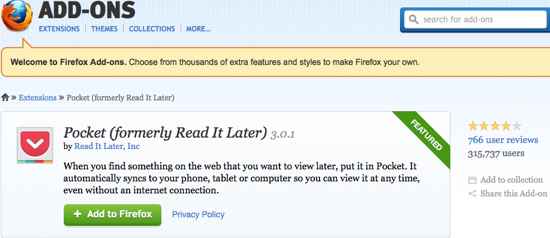 Pocket is also available as a free app on the Mac Appstore.
I saved a YouTube video of Boogie Wonderland on the browser and viewed it on the Mac app. Worked perfectly!
Pocket's competitors include Readability and Instapaper. In the coming weeks, I shall download them as well and see how they stack up vis-a-vis Pocket.
Supports Multiple Platforms
I first downloaded Pocket about two years back, when it used to be known as Read It Later, on the iPhone and iPad.
The other day I logged on to the Mac Appstore and downloaded it to the iMac as well.
The beauty of Pocket is that when you save an article on one device, it gets automatically saved on the other devices as well if you're logged in.
So save an article on the desktop at the office and on the evening subway trip home you can read it on your iPad, iPhone or Android devices.
Pocket supports tags and lets you filter content by type – articles, videos and images.
Some Issues?
When I saved an article on my iPad from within the Zite app to Pocket, it got saved to the Pocket apps on my iPhone and  iMac immediately.
But it did not show up in my Firefox browser on the Mac until I refreshed it.
So if you don't see an article on a device that's been sent to Pocket from another device, just hit the refresh button. Voila, you should find it there now.
Where to Download Pocket
You can download Pocket from Apple's Appstore as well as the Google Play store.
For the desktop or notebook computer, get an extension for your Firefox, Safari, Chrome or Opera browser.
Pocket is a nifty app that I'd gladly pay $0.99-$1.99.
Alas, it is free! 😉
I enthusiastically recommend Pocket.