Forget all the strum und drang about how Android is make chutney out of Apple's iPhones.
Sure, Android smartphones are clobbering the iPhone in Asia and elsewhere but in America the iPhone is still the favorite of subscribers.
A new survey by comScore shows that Apple's share of smartphone subscribers was nearly 40% at the end of June 2013.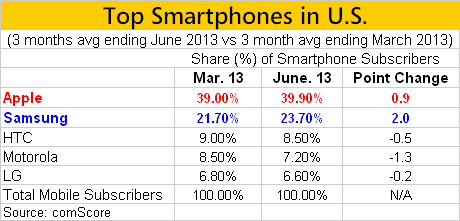 iPhone's marketshare in the U.S. actually increased by 0.9% after Samsung launched its top of the line Galaxy S4 smartphone (Galaxy S4 was launched in March and started shipping in April).
Carrier subsidies and low prices of older generation iPhones (iPhone 4 and iPhone 4S) is helping Apple mount a stiff challenge to Android smartphones from Samsung, HTC and LG.
Samsung took the second spot with 23.7% marketshare (up 2% from the preceding quarter).
HTC came in third third, accounting for 8.5% (a drop of 0.5%) of smartphone subscribers.
Top Smartphone Platforms
By platform, Android continues to be the leading software backbone for U.S. smartphone subscribers.
Keep in mind that Android phones are sold by multiple vendors while the iPhone is offered only by Apple.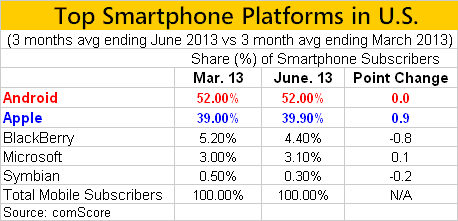 At the end of June, Android accounted for 52% of smartphone subscribers in the U.S., a figure unchanged from the previous quarter.
Apple iOS grew a modest 0.9% to take its share of the smartphone platform to 39.9%.
Apple's gain came at the expense of Blackberry, which is currently in its death throes.
A mere 3.1% of U.S. smartphone subscribers owned phones powered by Windows software suggesting that Microsoft is facing an uphill battle with consumers.