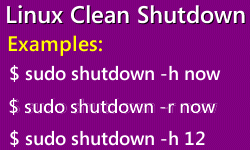 Learning how to do a clean shut down of a Linux system is important if you don't want to mess up your computer.
Just pressing your finger on the power button will certainly shut down or reboot your Linux system. But it can also cause serious damage like data corruption.
Remember, Linux is constantly writing data to disk even if it's not apparent to you. Also, Linux keeps data in memory although it might appear to have written the data to disk.
So it's crucial to do an orderly shutdown of a Linux desktop or server.
When you do a clean or orderly shutdown, you're essentially informing users and processes on the Linux system of the shutdown and blocking new logins.
In this post, we'll cover various options to properly reboot and shut down a Linux system.
You must be root or use sudo to run the shutdown command.
When I tried to run shutdown without being root or using sudo, I got the following error:
[thomas@localhost ~]$ shutdown
Must be root.