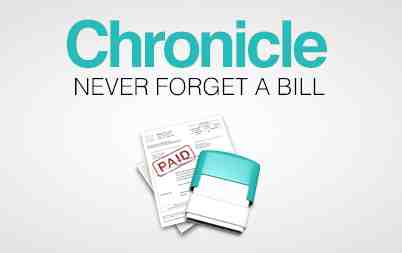 Chronicle bill manager is available at a sweet 87% discount for the Mac platform at the Apple AppStore.
Usually $14.99, Chronicle is available for a very limited time for just $1.99.
Chronicle promises to remove the hassle out of managing and paying bills.
Bill Reminder
Chronicle will remind you when bills are due with alerts that can be synced to an iPhone (iOS version of the app is $2.99) and across all your Mac computers via iCloud or DropBox even when the app is not running.
Besides reminders, the app also lets you pay bills online via its integrated browser and stores confirmation numbers and receipts.
Chronicle comes with a feature that graphs payment history and averages your payments to let you better budget for bills that fluctuate, stuff like utilities or credit cards.
Chronicle requires OS X 10.8 or higher.
The 87% off deal ends Wednesday evening.
So get cracking if you want a nice bill manager at a ridiculously low price.
I'm planning on getting the app myself later tonight.