Good apps like Diagrammix for the Mac are not cheap.
Fortunately, I stumbled upon a deal at the Mac App Store for this neat diagram creating app a short while ago.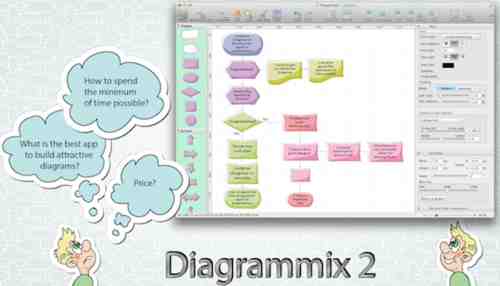 Diagrammix – Sweet Deal
Diagrammix is on sale today (April 8, 2014) for $1.99 at the Mac App Store.
The app is usually $19.99. So with a discount of $18 you're getting a good deal.
Diagrammix lets you build attractive diagrams easily by dragging and dropping elements from the palette.
You can use pre-built styles of elements and connectors or create your own styles with custom colors and shapes.
There's also an option to drag or drop images from other programs into Diagrammix.
Once you've completed the diagram, it can be saved in a number of formats including JPEG, PNG, TIFF, PDF or copied to your word processor  via the clipboard.
Diagrammix comes from Moscow software firm Deep Information Technologies (Deep IT), an app developer for the Mac and iOS.
I've checked out a couple of "How To" videos on Deep IT's web site for Diagrammix and the app seems like an easy to use tool.
The app is said to support different kinds of diagrams including flowcharts, data flows, workflows, UML class diagrams, organization charts and structured charts.
Diagrammix provides for in-app purchase of two smart connectors ($4.99) and one vector tool ($4.99).
You can extend the tools by importing sets of shapes from Graffletopia.
As of April 8, 2014, the version of Diagrammix is 2.9.4. The app supports OS X 10.6 or later.
The $1.99 deal ends today (April 8, 2014).
My Purchase
I'm sufficiently impressed with the Diagrammix  app and the company's videos and support pages that I've just purchased a copy of the app for myself for $1.99.
I plan to use the app to create diagrams with attractive apps for my various blogs.
A few minutes back, I downloaded Diagrammix for my Mac (10.8.5) and played with the app for a few minutes.
I'm happy to report that the app works fine.