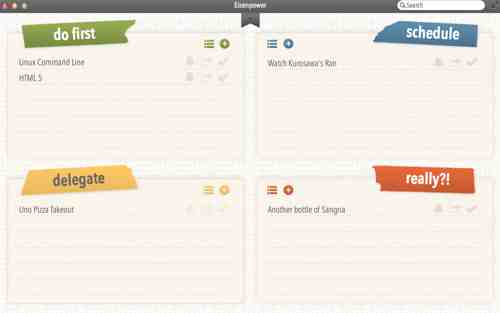 Eisenpower Interface
I purchased the Eisenpower task manager app (version 1.1.3) from the Mac AppStore for $4.99 in March 2013 and have been using it on and off.
The beauty of Eisenpower is its simplicity: there's no learning curve to get started.
Within a few seconds after downloading it to my iMac, I was using it. This Mac app is truly that simple.
Based on the famous Eisenhower Matrix, the app lets you prioritize tasks by importance and urgency into four quadrants:
1. Important and Urgent
2. Important and Not Urgent
3. Not Important and Urgent
4. Not Important and Not Urgent
The app also provides iCloud based syncing of projects, tasks and reminders to your other iCloud enabled Macs and sends reminders to your iPhone and iPad.
New Features, New Name, Higher Price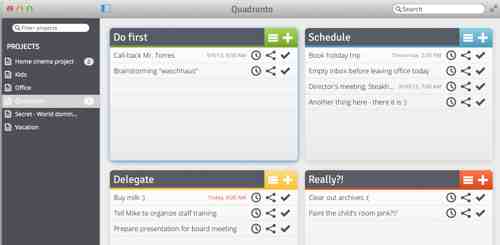 Quadranto Interface
This morning Waschhaus Media, the German company behind Eisenpower, put out a new version of the app (version 1.3), changed its name and upped the price to $6.99.
It looks like the upgrade is free to existing users.
Why the company changed a good name into a robotic sounding Quadranto beats me. But people do odd things every day. Or was it the threat of a lawsuit over a trademark or from the Eisenhower family?
Besides bug fixes and the new name, here are the other new features in Quadranto (version 1.3):
* Redesigned user interface
* New sidebar for fast access to projects
* Drag and drop support to move tasks to other projects
* Ability to easily edit quadrant labels in place by clicking on them
* New options to emphasize due tasks: Badges in sidebar and dock icon alert users to unfinished tasks and missed deadlines
* New shortcuts for switching projects, toggling the sidebar and showing archived tasks
None of the new features seem like a very big deal to me.
But be warned that I'm not a heavy user of Eisenpower a.k.a. Quadranto.
Heavy users of Eisenpower/Quandranto might find the upgrade a godsend.
Quadranto is available in the Mac AppStore for $6.99.
By the way, an iOS version of Quadrant is coming to your iPhone by the end of October.