Pure Storage, which is at the vanguard of enabling the storage industry's seismic transition from mechanical disk to flash memory, has raised $150 million in its Series E round.
The latest round values the four-year-old Mountain View, California startup at a billion dollars.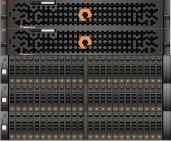 Pure Storage's FlashArray 
T. Rowe Price, Tiger Global Management and other public market investors led the round. Previous investors Greylock Partners, Index Ventures, Redpoint Ventures, Samsung Ventures and Sutter Hill Ventures ponied up more cash.
The money will go toward expansion of European and Asian operations, adding more people to sales, support and marketing and boosting investments in research and development.
The Series E round takes Pure Storage's total financing to $245 million and puts the all-flash storage startup on-track for a future initial public offering.
Flash Technology
Pure Storage's claim to fame is the FlashArray product line it's been peddling since 2012.
Pure Storage CEO Scott Dietzen's pitch is compelling and one that should be making his disk rivals extremely nervous – FlashArray is 10 times faster, more space and power efficient, reliable, and simpler than the disk-centric products it replaces.
And the icing on Dietzen's enterprise flash storage cake – It costs less!
The fledgling says it's shipped hundreds of units and is now selling its third generation FlashArray GA product line.
Pure Storage's primary competitors are the old guards and Goliaths of the storage industry – EMC and NetApp.
To accelerate its entry into the flash storage business, EMC acquired startup XtremIO last year.
NetApp is building its FlashRay product in-house.
But neither has launched a comparable flash storage product.
Dietzen claims Pure Storage has an 18-month head start over his major rivals.
Unless Dietzen and his team screw up big time, count on Pure Storage making chutney out of their rivals.