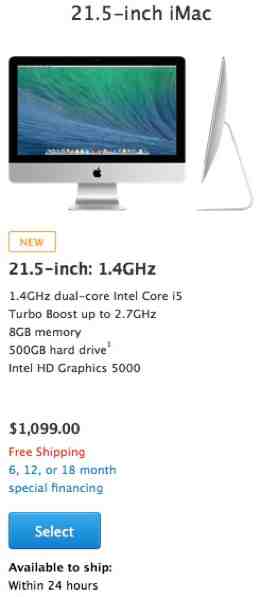 Apple introduced a new entry-level 21.5-inch iMac starting at $1,099 with specs that are nothing to get excited about.
The base configuration has 8GB of RAM, a measly 500GB of storage,  a 1.4GHz dual-core Intel Core i5 processor, Intel HD Graphics 5000 and comes with OS X Mavericks installed.
There are four USB 3 ports, two Thunderbolt ports, a SDXC card slot.
We recommend buyers double the storage for an extra $50. You'll be surprised at how fast 500GB can fill up. For an additional $250, buyers can get a 1TB Fusion drive or 250GB of flash storage. No, you cannot expand the base 8GB RAM, which should be adequate for light use.
This is obviously not a Mac for gaming or demanding tasks. Its specs make it ideal for activities like web browsing, e-mail, chat and FaceTime conversations.
The new $1,099 iMacs are available today at Apple. But we still don't see it listed on the Best Buy site.
Ignore the New iMac
Ideally, if you're in the market for an iMac ignore the new model.
Go instead for the $1,299 model which comes with a 1TB hard drive, 2.7GHz quad core i5 processor and Intel Iris Pro Graphics.
The higher-priced model also lets you double the base 8GB RAM.
This means you should be able to accomplish resource intensive tasks that the new model will find it hard to tackle.
We wouldn't be surprised if Apple customers give the new iMac model the cold shoulder the way they did last year to the cheaper iPhone 5C in favor of the superior iPhone 5S.
Although the PC industry has been struggling lately amid consumer migration to tablets and large-screen smartphones, Apple has fared better than its primary Windows rivals.