The bigwigs at Linux Mint have spoken.
The nice minimal install option available in the new Ubuntu 18.04 LTS distro will NOT be offered with the upcoming Linux Mint 19 aka Tara.
With Ubuntu 18.04's minimal install, you only get the Firefox browser and a few basic utilities, not the fancy stuff like LibreOffice, etc.
Linux Mint did not provide any reason why such a cool feature as minimal install would not be made available in the next major version of the popular distribution.
Well, you can't really question the wisdom of the Delphic oracles. Can you?
Although based on Ubuntu 18.04 LTS, Linux Mint 19 will likely differ from its parent in another important way too.
Linux Mint developers are considering retaining support for home directory encryption, a feature stripped in the Ubuntu 18.04 installer. But a final decision has yet to be made in this matter.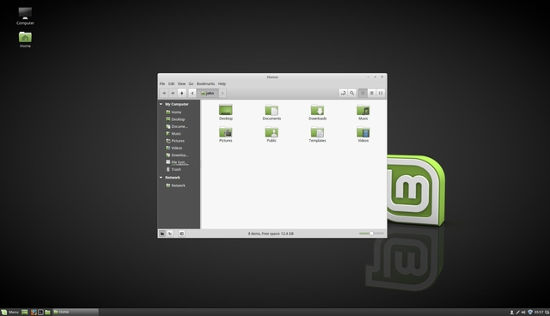 Tara – Other Features
Besides leveraging the various improvements in its upstream parent Ubuntu 18.04 LTS, the love-child (Tara) should also feature improvements in Mint tools, with the focus on Update Manager, Software Manager and Welcome Screen.
By the way, Linux Mint 19.x releases (19, 19.1, 19.2 and 19.3) will offer a choice of three desktop editions – Cinnamon, MATE and Xfce. I suspect most users will pick the Cinnamon, the most polished consumer Linux desktop.
Unlike Ubuntu 18.04 LTS, Linux Mint 19 will arrive in both 32 and 64-bit versions.
Expect to see the beta version of Linux Mint 19 in May 2018. After the bugs have been weeded out, the final release should make landfall no more than three weeks later.
Users of Linux Mint 19.x are assured of support in terms of security and other updates for five years, i.e., until 2023.
Linux Mint Debian Edition 3 aka LMDE 3, which will feature the Cinnamon desktop, should debut after the release of Linux Mint 19.
Unlike other versions of Linux Mint that leverage the Ubuntu software, LMDE relies on Debian as the software source.
Writing about the group's current efforts on April 30, an unnamed high priest of the Linux Mint team said: "A lot of work is dedicated to adapting to the Debian Stretch and Ubuntu Bionic package bases, reviewing, re-applying or letting go of some of the fixes we had on the previous bases, monitoring and fixing new issues and reviewing new software and our default package selection. Other than a few issues we've yet to fix, everything looks really good so far."
No Spying Promise
The high priests of Linux Mint promise that Linux Mint 19 won't spy on its users unlike the folks at Ubuntu.
During installation, Ubuntu 18.04 LTS collects information on the user's computer that's then sent back to Canonical (Ubuntu's de facto parent).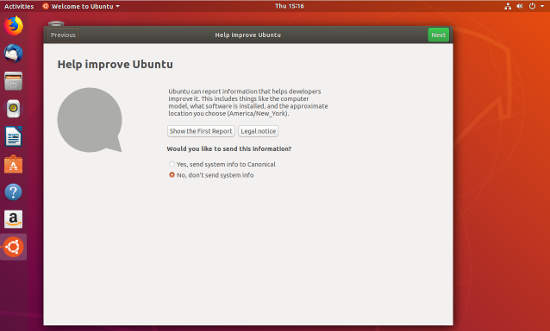 Information Collection in Ubuntu 18.04 LTS
Information collected include CPU brand, bios, RAM, storage, screen resolution, whether auto login is enabled and your time-zone.
Unfortunately, the default is opt-in on the information collected.
Hoiwever, since Ubuntu provides a clear option for users to opt-out I don't think it's as big a deal as its made out to be.
Cinnamon 3.8 Ready (Well, Almost)
Linux Mint 19 will feature the new Cinnamon 3.8 desktop and incorporate kernel 4.15.
The slight delay in Cinnamon 3.8 is attributed to "a build issue in libnemoextension (which is used by xreader and some of the nemo extensions)."
The problem is expected to be fixed soon and Cinnamon 3.8 should bow in the first week of May 2018.
Upgrade Path to Linux Mint 19
Users running Linux Mint 18.x will supposedly get an upgrade path to Linux Mint 19.
Linux Mint 18.x users may have to set up the Timeshift snapshots feature before upgrading so that if something breaks during the upgrade process they can restore their system with the snapshot.
In the last couple of years, Linux Mint has vaulted to the top of the list for average users trying Linux for the first time.
In case you didn't know it, Linux Mint continues to be the Top beauty queen in Distrowatch's ranking of dozens of Linux distributions.
One hopes Linux Mint developers will focus on addressing some major bugbears like slow boot-time and shutdown, as well as overall sluggishness of the OS (particularly for those running the Cinnamon desktop) in the 18.x versions.