A mini Android PC is drawing a phenomenal response on the crowd funding site Kickstarter.
Against a modest funding target of $50,000, the Remix Mini Android PC has received commitments for over half-million dollars with 39-days still left for the funding campaign.
The highlight of Remix Mini is that it combines the Android app ecosystem with PC features like a taskbar, multiple window multi-tasking, mouse and keyboard support.
But a few Remix Mini backers are upset that the device does not support the Kodi technology (enables hardware accelerated video decoding) and are threatening to withdraw their backing.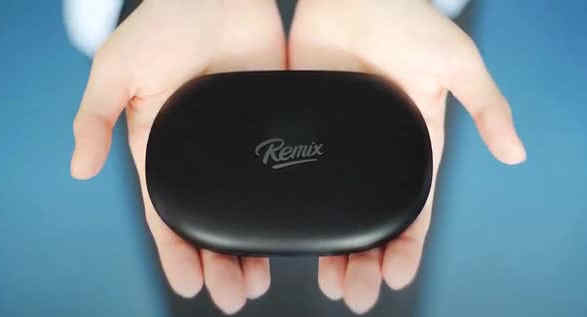 Remix – Android PC
Latest to ride the mini PC wave, Remix Mini runs on a custom version of Android Lollipop (Android 5.0, the same OS beneath the hood of a gazillion smartphones).
Remix Mini's developers claim the device "gives you a PC experience unlike anything on Android and an Android experience unlike anything on a PC."
Powered by a 64-bit chipset, Remix Mini comes in two varieties.
The $30 model packs 1GB of RAM and 8GB storage (the $20 early bird offer quickly sold out). For $40 (early bird price), you get double the memory and storage.
Both models come with the holy grails of Ethernet, WiFi, Bluetooth and USB.
Remix Mini is the brainchild of a bunch of ex-Google employees who previously cobbled together a laptop like Android tablet on Kickstarter.
A big plus of Remix Mini is that 1.5 million Android apps will in theory run on the device. Plus, it can also be used as a media streaming device.
But the huge negative is that most Android apps were built for smartphones. It's not clear how they'll look on a large screen.
Remix Mini – Specs
Here are the key specs and features of the Remix Mini.
* 1.2GHz quad-core ARM Cortex A53 (64-bit) Allwinner
* Two USB 2.0 ports
* HDMI port
* WiFi 802.11b/g/n
* Bluetooth 4.0
* Ethernet port
* MicroSD card slot
* Dedicated File Manager (software, a feature of Remix OS)
* Resizable Windows (software, a feature of Remix OS)
* Support for 4K HDMI output
* Headphone port
* Mouse and keyboard support
* Dimensions – Height (1-inch), Length (4.9-inch) and width (3.5-inch)
Expect to see Remix Mini in the hands of its backers in October 2015.