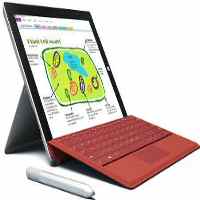 The tablet market is basically imploding.
In free fall.
The number crunchers at ABI Research have found that shipments of OEM branded tablets experienced a year-over-year decline of 13% in the first quarter of 2015.
Here's what ABI's Research Analyst Stephanie Van Vactor had to say on the current challenging times for tablets:
There is no denying the market is losing its momentum. The market is in the process of going through a transition as developed markets shift to a refresh/replacement cycle. In addition, vendors are feeling the squeeze due to new devices gaining traction in the market that are in direct competition with tablets, for example, 2-in-1s, phablets, and Chromebooks.
If our experience offers any clues, consumers in mature markets like the US are not replacing their tablets. Our four-year-old iPad 2 is still going strong and we have no plans on replacing it anytime soon. And if our behaviour represents a microcosm of other buyers, the replacement cycle really isn't all that strong.
Adding to tablet vendors' woes, phablets (large-screen smartphones) and 2-in-1s are pushing into tablet territory.
ABI Research predicts branded tablet growth will remain flat to slightly negative over the next year.
Tablet Vendors – Painful Times
Major tablet vendors including Apple and Samsung are experiencing much pain.
Apple lost significant share of the tablet market for the second quarter in a row as shipments declined and growth of the overall market remained stagnant.
Apple shipped 21.42 million iPads in the fourth quarter of 2014 (an 18% year-over-year decline) and just 12.62 million units (a year-over-year decline) in its most recent quarter.
Samsung too reported a year-over-year decline of 30% for the first quarter of 2015.
Microsoft is likely feeling the pain too with its recently launched Surface 3 tablets. There has already been a round of discounts to get the pricey Surface 3 units off the shelves but I doubt the discount strategy is working.
Microsoft's first foray with the Surface was a disaster causing it to take a huge writeoff of $1 billion on the misadventure.
Prospective tablet buyers should hold off for a few months to see if the slowdown triggers another round of discounts from the major vendors.