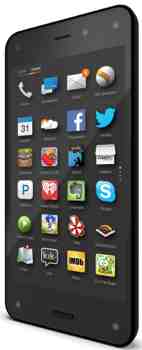 When Amazon launched the Fire smartphone today, it did what most large corporations often do – It went for the low hanging fruit while missing the larger opportunities.
Like a lot of people with more time on their hands than they know what do with, I watched Amazon CEO Jeff Bezos launch the Fire smartphone this morning.
As with any new smartphone launch these days, there's always a few esoteric stuff in the gadget to tickle our senses for a few days.
With Fire, the novelties are the four cameras, the "Dynamic Perspective" interface and the Firefly scanning button to make it easy to buy more stuff from, of course, Amazon.
Otherwise, Fire is no different from any other new smartphone and will be upstaged by another device in the next three months or so with a different set of cute features.
But more than anything I was extremely disappointed to note the glaring absence of one thing.
So what's the big thing missing?
A low price!
Opportunity Lost
Amazon missed a huge opportunity to strike at the stranglehold of the two big U.S. smartphone players, Apple and Samsung, by offering a cheap smartphone with all the bells and whistles.
By pricing Fire at $200 (after a two-year mobile phone service contract with AT&T), Amazon dismissed the chance to build a huge, volumes business like Xiaomi and other Chinese vendors are doing in Asia with Android phones featuring powerful specs for $199-$299 (the full, unsubsidized price).
Au contraire, the no-contract, unsubsidized prices for Fire are $649 (32GB) and $749 (64GB), in line with the top of the line smartphones from Apple and Samsung.
Sticking to the existing framework of putting out an expensive smartphone is not a terribly smart way of doing business if you're late to the market by seven years (even if your device has a few interesting features).
I'd consider Amazon's move today as a huge missed opportunity to shake up the smartphone business in the U.S.
The U.S. smartphone market is ready for a good bare-knuckles price war.
But that's not going to happen with Fire.
By positioning Fire primarily at its existing customers, Amazon is actually thinking small. Also, millions of Americans with iPhones or Samsung Galaxy S4/S5 are locked into contracts with their carriers AT&T or Verizon and will not/cannot easily defect to Amazon Fire.
Of course, some will argue that by throwing in a one-year membership to its $99 Prime two-day free shipping service and streaming of old movies, TV shows and music Amazon is making Fire more attractive. I don't buy that argument because not every U.S. smartphone buyer is a frequent shopper on Amazon or loves to watch old movies and TV shows so much that he'll buy Fire.
A lower price would have also allowed Amazon to take Fire overseas.
Perhaps, Xiaomi will be the one to shake up the U.S. market when it summons up the courage to navigate the Pacific and comes stateside.
Fire – Key Specs
For now, Fire will be available exclusively on AT&T.
You can pre-order the phone at Amazon or AT&T. Fire is scheduled to start shipping July 25, 2014.
Here are the key specifications for Fire:
* 4.7-inch IPS HD display
* Quad-core 2.2GHz processor, 2GB RAM, Adreno 330 Graphics
* 13MP rear camera, optical image stabilization
* A so called "Dynamic Perspective" interface through use of four cameras
* $200 for 32GB; $300 for 64GB
* Unlimited cloud storage for Fire photos via Cloud Drive
* Firefly scanning feature recognizes 100-million items including music and TV shows for easy purchase on Amazon
* Auto scrolling to easily read long pieces
* Gorilla Glass 3 on front and back
* Dual-stereo speakers with Dolby sound
* Faster streaming through ASAP (Advanced Streaming and Prediction)
* Prime shipping and streaming service included currently on promotion basis
* Second screen to fling TV shows and movies to Fire TV, PlayStation or any Miracast enabled device
* May Day support from Amazon on WiFi, 3G and 4G