I struggled for nearly three weeks before getting my hands on an iPhone 5s.
I called Radio Shack, Walmart, Apple Store, Best Buy, AT&T, Sam's Club and even the Best Buy kiosk at the mall.
At every place, I called or visited in search of the elusive iPhone 5s, I drew a blank.
Finally, I found a 16GB silver unit at a Best Buy store.
I wondered why there is such a shortage of the higher-priced iPhone 5s several weeks after its launch while the cheaper, plastic iPhone 5c is easily available.
A new survey by Consumer Intelligence Research Partners provides a possible answer.
The CIRP survey shows that the iPhone 5s has been selling at more than twice the rate of the iPhone 5C.
In September, iPhone 5s accounted for 64% of all iPhone sales while iPhone 5C amounted to just 27%.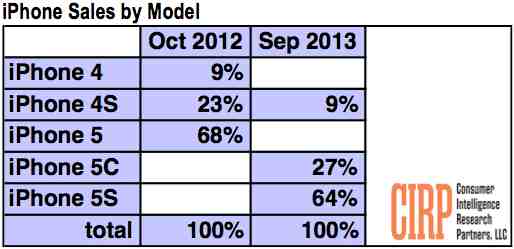 Source: AllThingsD
Even when I was trading in my old iPhone 4 for the new iPhone 5s at Best Buy, other consumers who walked up to the mobile phone desk asked only for the iPhone 5s. They did not show any interest in the iPhone 5C even when the store rep told them it was available and in several colors.
Low demand for the iPhone 5C is the main reason for retailers discounting the smartphone and selling it at $49.
At least in these early days in the U.S., the majority of consumers seem to have made up their mind – iPhone 5s is what they want, not the cheaper, plastic iPhone 5C.
Higher demand for the iPhone 5s may not be the only reason why they are in such short supply everywhere.
It's also possible that Apple overestimated demand for the iPhone 5C, which are now lying around on shelves at Walmart, Best Buy and other retailers I checked. So Apple could be trying to get rid of the iPhone 5C inventory before it releases more units of the iPhone 5s into the market.
Given the iPhone 5s supply constraints, I'd be surprised if t does not extend int the holiday season.
For Apple, the iPhone momentum never looked better. The only dark cloud is the inventory of the iPhone 5C.